Ammo Brands You Probably Have Not Tried.. But Should
OutdoorHub
Ammo Brands You Probably Have Not Tried.. But Should
Most shooters that have been around for any time at all know of the big names in ammunition. Federal, Remington, Winchester, CCI and Hornady easily come to mind when talking training, hunting, match, and defensive ammo. There are several others of course, including foreign companies that manufacture ammo. But there are a few other ammo brands right here in the US producing high quality ammo for a variety of purposes you may have never heard of.
The following are three such companies:
Sig Sauer
Sig Sauer is probably best known for its exceptional line of handguns and rifles. You may have even heard of the Sig Sauer Training Academy that has been around since the late 1980's.
However, many folks probably do not know that Sig has been in the ammunition business since 2013. Since its start in Kentucky the ammo part of Sig has now moved to Jacksonville Arkansas. The ammo division is now offering a full line of Practice, Defensive Match and Hunting ammunition along with brass for the reloading enthusiasts.
Although I have not tried all of Sig's ammo as of yet, I have been fortunate to test some of the following ammunition categories:
Sig Sauer Practice
"Practice" ammo is the first of their offerings I was able to try and it did not disappoint with zero feeding or reliability issues. Calibers in the "Practice" ammo include, .38 Special, .357 Magnum, .380 Auto, .38 Super, 9mm, 10mm, .357 Sig, .40 S&W, .45 ACP and even .308 FMJ. Sig provides other choices for the shooter when it comes to reliable training ammunition such as the Sig .365 ammo (specifically designed for the Sig Sauer model .365, 9mm carry pistol). All practice ammo is "manufactured to Sig's exacting standards with durable copper jacketed bullets, solid brass cases and dependable primers."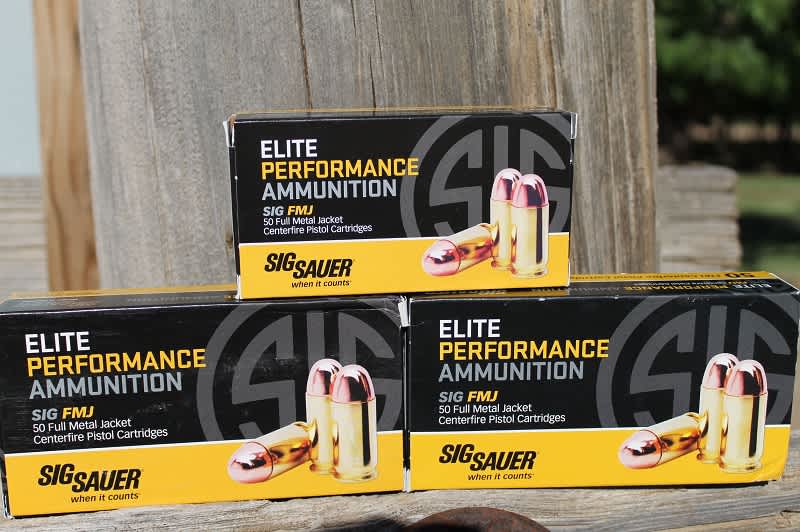 Sig Sauer Defensive
Also known as Sig V-Crown, is offered in the following; .38 Special +P, .380 Auto, .38 Super + P, 9mm, 10mm, .357 Sig, .357 Magnum, .40 S&W, .44 Magnum, .44 Special, .45 Auto and .45 Colt. Also included in the Defensive ammo line is the Sig .365 V- Crown 9mm ammo. As Sig puts it when talking about their defensive line "From bullet to brass to propellant, SIG V-Crown ammunition establishes a new standard in jacketed hollow point centerfire pistol cartridges."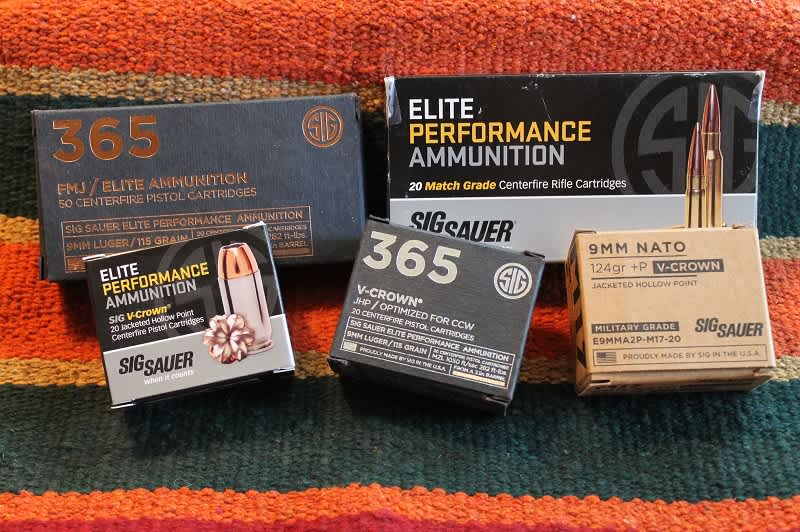 Sig Match
Match grade ammo is produced the following calibers; .223 Rem, .300 Blackout, 6.5 Creedmoor and .308 Win. According to Sig "Our subsonic match rounds deliver increased downrange terminal performance and low noise for suppressed AR rifles, while supersonic rounds offer superior accuracy and minimal dispersion when suppressed."
I have personally tested their match ammo in .308 Win and can say that it is both accurate and reliable.
Sig Hunting
Manufactured in the following calibers; 22-250 Rem, .223 Rem, .243 Rem, .300 Blackout, 6.5 Creedmoor and .308 Win, Sig Hunting line of ammo offers a good selection.
Sig states that their  "HT superior hunting rounds yield consistent 1.8X diameter expansion using an all-copper projectile with optimized nosed geometry and premium nickel-plated shell casings, delivering consistently reliable accuracy for taking down game." My intent is to try Sig hunting ammo in the field on a hunting excursion soon.
You can find a full list of ammunition offerings from Sig Sauer at https://www.sigsauer.com/products/ammunition/
Doubletap
Mike McNett is the founder and president of Doubletap Ammunition. McNett started producing his favorite caliber, 10mm, in his garage in 2002. Since then the company has grown to be one of America's largest, producing many loads that are branded under other names. Located in Cedar City, Utah, Doubletap Ammunition has rapidly gained a reputation for powerful, reliable and accurate ammunition. "We continue to be at the cutting edge of innovation from defensive ammunition to hunting ammunition" says Mike. Quality control and precision craftsmanship are top priority at Doubletap. "Every single round that goes out the door has been touched by our hands and inspected by our eyes."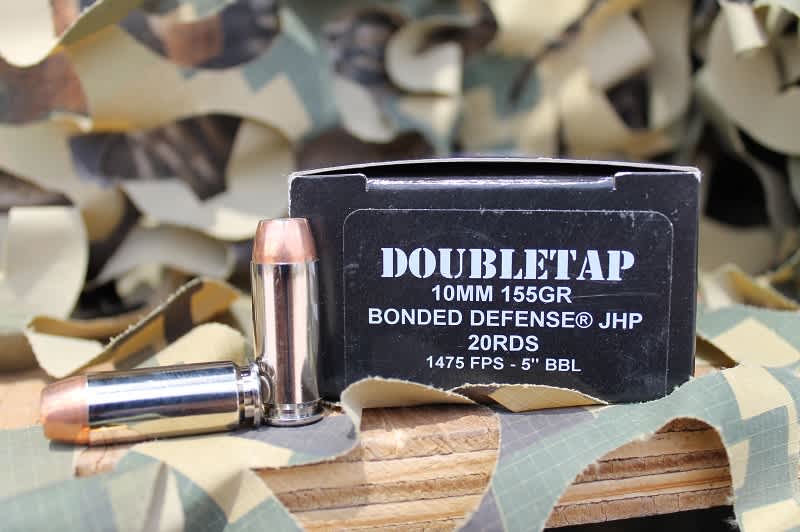 The company currently offers 82 "mainstream" calibers and another .17 special order calibers. They can take any special order under certain quantity requirements.
Doubletap produces millions of rounds of ammunition every year and offers the following categories of ammunition:
DT Defense; includes both handgun and rifle offerings based on self-defense needs.
DT Hunter; again both handgun and rifle cartridges built for the hunting environment.
DT Long range; rifles ammunition specifically produced with the long range shooter in mind.
DT Safari; heavy rifle cartridges built for your African Safari.
DT Tactical; rifle and handgun ammo designed for a tactical purpose in mind
DT Target; you guessed it, primarily built for handguns and target shooting, although .223 and .308 is also offered in this category.
The company also offers a more economical line of ammunition under the Colt name. Ammo under the Colt name is broken down into "Defensive" and "National Match" categories. http://doubletapammo.net/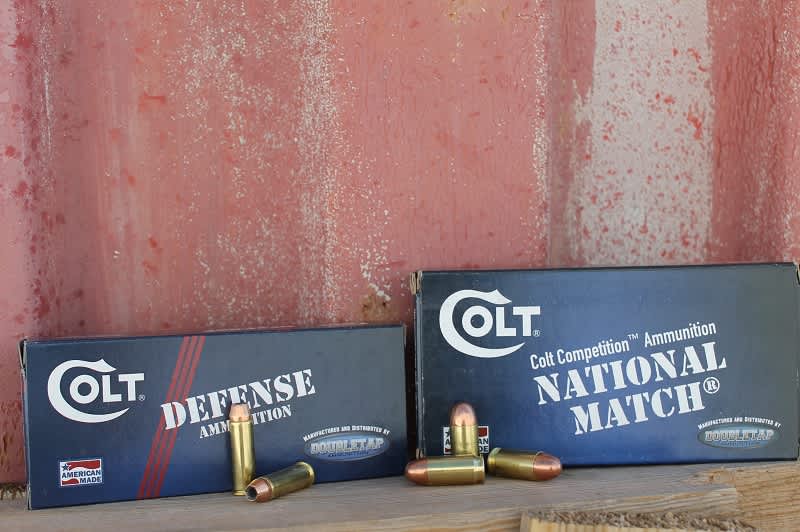 Precision Delta
Based out of Ruleville, Mississippi, this company has been around since 1982, long enough that I'm embarrassed to say I should have known of them. The company is perhaps better known for ammunition components such as bullets. However the company offers two distinct lines of ammo geared towards training and competition.
Their "Performance Standard" line is remanufactured, using only once-fired cases. This ammo has undergone an extensive case processing operation to bring it back to factory SAAMI (Sporting Arms and Ammunition Manufacturers' Institute) specifications. Precision Delta uses a match grade bullet designed for this line of ammo. The "Performance Standard" line is produced in 9mm, .40 S&W, .45 Auto, .38 Special, and .223 Remington. While pricing for this line is not at bargain basement levels, it is reasonable and sold in bulk quantities.
Precision Deltas' next line of ammo is the "Performance Pro".  This category uses the company's own precision-made jacketed bullet and is engineered for optimum performance. They use new, high-quality brass for this load, specialized for precision and competitive shooting. The Performance Pro line is manufactured in 9mm, .40 S&W, .45 Auto and .38 Special.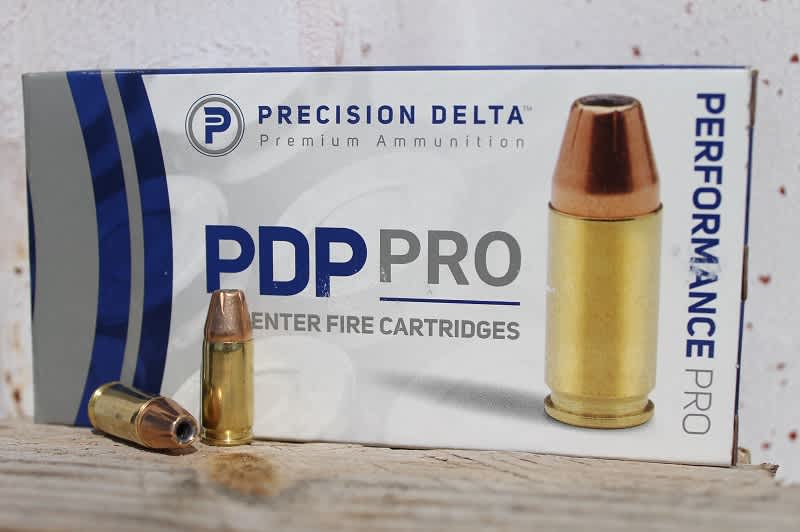 If you've not heard of Precision Delta you may want to check them out at https://www.precisiondelta.com/
Most shooters have a long standing, tried and true favorite ammunition. But these companies could provide you with some unique and different choices for your shooting needs on several levels.
The post Ammo Brands You Probably Have Not Tried.. But Should appeared first on OutdoorHub.